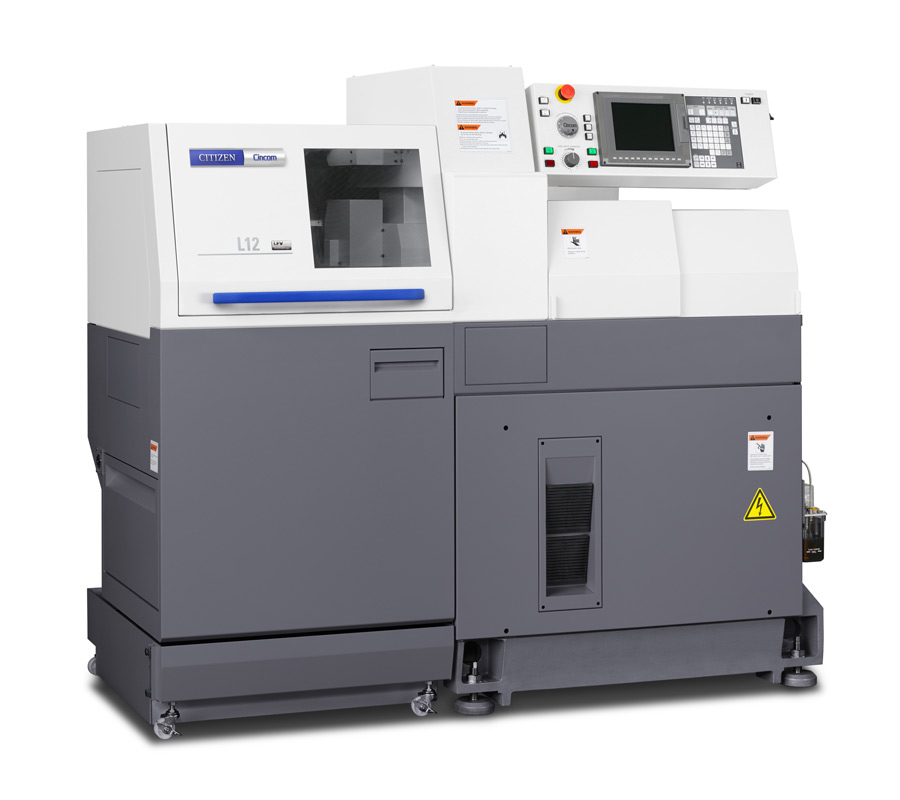 MACHINE INFORMATION
The Cincom L12 is a state-of-the-art Swiss Turning Center featuring Citizen's user-friendly editing function, which utilizes multi-line multi-axes programming along with superimposed and synchronized control. The L12 is equipped with a detachable guide bushing as standard. This allows the machine to be used as a regular guide bushing type automatic lathe for long and small diameter workpieces. Once the guide bushing is removed, it can be used to machine short workpieces with less material waste.
Optional Low Frequency Vibration (LFV) Function improves cutting efficiency and cutting tool life.
In addition, the new L12 Type X includes more features for improved performance, function and ease of use, such as:
Modular tooling system on the gang and back tool posts allow a wider variety of tooling layouts.
Y2 Axis on the back spindle expands the range of usable tools.
Back spindle has been switched to a built-in motor type that allows a maximum speed of 12,000 rpm.
Optimal balance of strength and weight greatly improves rigidity.
The L12 VII Swiss Turning Center Video
The new L12 Type X with additional Y2 axis, including LFV demonstration.
STANDARD NC FUNCTIONS
NC unit dedicated to the L12
8.4" Color LCD
Program storage capacity: 160m
Tool offset pairs: 40
Product counter indication (up to 8 digits)
Spindle speed change detector
Constant surface speed control function
Automatic power-off function
On-machine program check function
Chamfering corner R
Variable lead thread cutting
Arc threading function
Geometric function
Spindle C-axis function
Milling interpolation
Back spindle C-axis function
Back spindle chasing function
Canned cycle drilling
High speed rigid tapping function
Differential speed rotary tool function
Tool Life Management I
Tool Life Management II
External memory program driving
User macros
Helical interpolation function
Inclined helical interpolation function
Hob function
Polygon function
Inch command
Sub inch command
Network I/O function
High Speed Synchronous Tapping (Type X)
4-Spindle Speeds Command in the Single block (Type X)