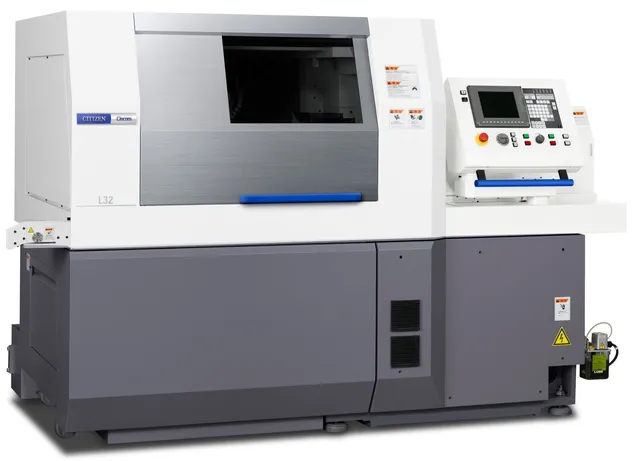 MACHINE INFORMATION
With a legacy as one of the best-selling Cincom machines, this next generation L32 is launched with 3 models in a modular design.
Ranging from a 5-axis machine with excellent cost performance to a high-end machine equipped with a B-axis and back tool post Y-axis, you can select the machine according to the functions you require. A wide range of modular tooling ensures that the L32 is both versatile and flexible to meet your production needs well into the future.
The L32 series features the ALL axis Simultaneous Cincom System M70 Control (Mitsubishi Meldas 70LPC) and boasts a user-friendly editing function which utilizes multi-line, multi-axes programming along with superimposed and synchronized control. In addition, one bar loader axis (A7) can make easy work of your toughest applications.
All three models handle both long and short workpieces with maximum efficiency by easily switching between guide bushing and non-guide bushing mode.
L32 VIII - A Seven Cutting Axes model (X1, Y1, Z1, X2, Z2, C1, C2) with excellent cost performance.
L32 X - with Eight Cutting Axes (X1, Y1, Z1, X2, Y2, Z2, C1, C2) the type X offers a wide range of modular tooling making it both versatile and flexible enough to meet your production demands.
L32 XII - Stable, powerful and highly productive this high-end model includes nine Cutting Axes (X1, Y1, Z1, X2, Y2, Z2, C1, C2, B). Up to 40 tools can be mounted at any one time supported by a very high level of control features.
L32 VIII Seven Axes Turning Center
L32 XII Nine Axes Turning Center with Rotary B Axis
STANDARD NC FUNCTIONS
CINCOM SYSTEM M70LPC-VU (Mitsubishi)
8.4 inch color LCD
USB slot
Program storage capacity: 80 m (approx. 32 KB)
Tool offset pairs : 80
Product counter indication (up to 8 digits)
Operating time display function
Machine operation information display
Multiple repetitive cycle for turning
B-axis control function (type XII)
Back spindle chasing function
Interference check function
Synch tapping phasing function
Spindle speed change detector
Constant surface speed control function
Automatic power-off function
On-machine program check function
Chamfering, corner R
Nose radius compensation
Eco indication
Variable lead thread cutting
Arc threading function
Geometric functions
Spindle synchronized function
Spindle C-axis function
Back spindle C-axis function
Milling interpolation
Canned cycle drilling
Rigid tapping function
High speed Rigid tapping function
Differential speed rotary tool function
Tool life management I
Tool life management II
External memory program driving
User macros
Helical interpolation function
Slant helical interpolation function
Hob function
Polygon function
Inch command
Sub inch command
Network I/O function